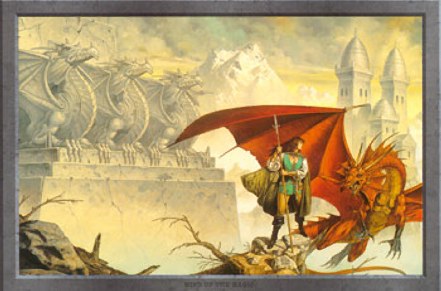 This is the fourth, and last book in the Immortals quartet.

I love this book!!!!

The book flap says:

It is a surprise to Daine to wake up in the realms of the gods after a losing battle against the Skinners- creatures who strip bate all living things. In fact, she and Numair, her teacher and friend, have both been taken to the home of her mother- now a goddess- and her father Weiryn, god of the hunt. Though the two are happy to be alive, they are not where they want to be. A war is raging in Tortall. They are needed to fight a growing number of strange foes led by an old enemy, Ozorne, one emperor of Carthak, now a powerful Stormwing.
The question is: How to get home? The two cannot return the way they came. The Great Gods are too busy to help. They are at war with Uusoae, Queen of Chaos- who, it turns out, has more that a small part in the fight Ozorne is leading. The only answer seems to be a dangerous trip to the dragons, who might agree to help because Daine is the foster mother of the young dragon Skysong.
Constantly aware of the problems that face their friends at home, and constantly besieged by the strange powers that live in the realms of the gods- to say nothing of the dangers Ozorne devises for them- Daine and Numair set out. Their guides are Daine's old friend the badger god and a new friend, the duckmole god. The way is long and two questions are always before them: Will the dragons help; and will they arrive in time to save Tortall?
This brave and otherworldly adventure is a fitting conclusion to the three previous books about Daine and her wild magic. A good many of the problems Daine has faced ever since she because involved in the affairs of Tortall are solved. It also gives somewhat more that a hint of love that lies in her future.